Welcome back to my blog.
Last night, I couldn't sleep, but, instead of counting sheeps, I decided to see something: is there at least a Sentai Ranger whose name includes all five vowels when written in Japanese?
It surprised me that I didn't have to get too far, as there's at least one in the Showa Hera: Sara, aka Yellow Flash.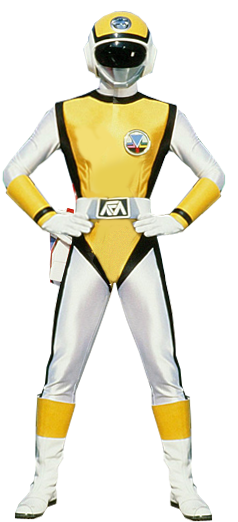 Now, I'm not talking about her name, Sara Tokimura, but her Ranger designation, Yellow Flash. In English, we have two semi-vocalic glyphs (Y and W) and three vowels, but, when you write her name with the Japanese katakana syllabary, you get this:
イエローフラッシュ
Ieroo Furasshu
That's because "ye" doesn't exist in Japanese (you can have Ya, Yu and Yo, though) and there can't be a combination of two consonants together, unless it's the same repeated. Also, N is the only consonant that can be put at the end of a word.
Therefore, you can't write "Yero" (R and L use the same syllables when transcripted) "Frash".
Sure, I used romaji, so it probably doesn't count, but I wanted to share what was I thinking last night.
See you, next time, here, on the Empty Blog!